coaches & success stories
Frank Houlgate - Head PGA Professional
Frank has over 26 years of teaching experience and has worked with all levels of golfers from the elite to the rank beginner. Frank is passionate about making golf easier for all his pupils and believes strongly in teaching neutral golf so no fancy gimmicks or methods – just what works! Frank uses TrackMan 4 and video technology in his lessons.
Frank is delighted to say that "Our team of elite golf scholars are making great progress and continue to learn from our great team of coaches on all aspects of the game".
Chris Dennis - PGA Teaching Professional and European Tour Coach
Chris, who qualified in 2015, has since spent his time becoming a specialist putting coach. Chris has worked overseas for the last five years and spent the last 18 months travelling on both the men's and ladies' European Tours. Chris thrives off the challenge that most golfers could save a lot more shots on the green.
Chris breaks down putting into aim, read and speed and during sessions he will work to improve the main aspect that is holding golfers back on the course. Our custom putting studio incorporates a Capto putting lab and blast motion amongst many other training aids.
Danny Walsh - PGA Teaching Professional
Qualifying as a class A PGA professional in 2007, Danny has since built up a strong reputation coaching players of all abilities. Junior coaching and encouraging participation in golf are key interests of his. Danny uses a holistic approach to enhance existing skills and improve the players knowledge of their own game. He aims to help players feel relaxed and able to ask questions, an open dialogue is key to his coaching success.
Danny helps players to progress all aspects of their game and uses video analysis and Trackman technology in his lessons.
Andy Stocks
Andy is a professional with over his 11 years experience within the golf industry. He is has worked with leading coaches and has a wealth of knowledge when it comes to American Golf Scholars aiming to break on to the PGA Tour.
Andy joins Waterfront Golf in 2021 from his role as Head Professional at Kilnwick Percy Resort, having previously worked under Head Pro Frank Houlgate at Sand Moor golf club. Andy has a real passion for developing golf talent and is incredibly excited to work at one of England's leading facilities with state of the art technology such as the Trackman Range.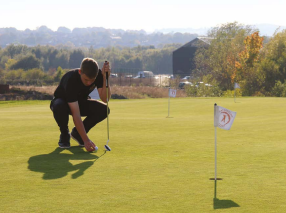 SUCCESS STORIES
Ben Schmidt
• Winner of the Brabazon Trophy • Winner of the Carris Trophy • Winner of the Henry Cooper Masters • Winner of the New South Wales Open (Australia) • Winner of the Alwoodley Open Qualifying event • World ranking high of number six • Plans to turn professional in the near future.
Charlie Daughtrey
• Winner of the South Yorkshire Schools Championship • Winner of the North of England Qualifier for the Brabazon at Lindrick • Yorkshire Amateur Champion 2020.
Luca Houlgate
• Winner of the Sheffield Junior Stroke-Play Championship • Course record of 66 for Waterfront Golf • SUGC Junior Captain 202 • Alongside developing his own golfing ability, Luca is showing exceptional levels of leadership and coaching whilst teaching young children as part of the junior coaching programme at Waterfront Golf.
Mia Eales-Smith
• Represented England against Spain • Selected for the Yorkshire Ladies' team for the last four years • Reached top 10 English girls this year.