Homework (Satchel One)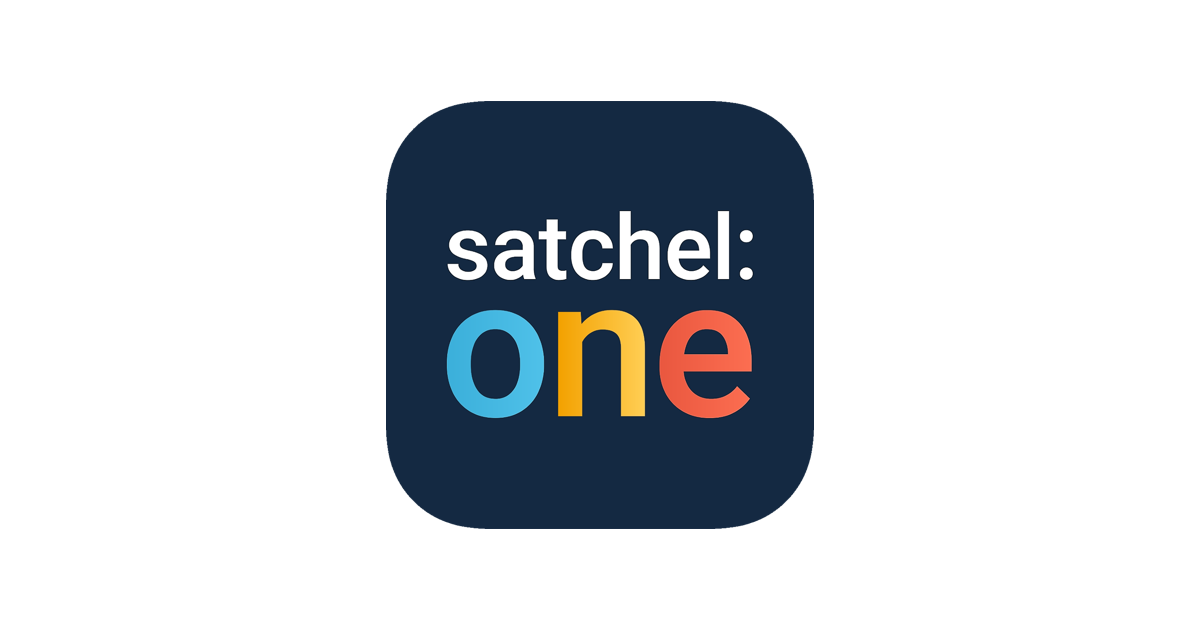 At Wath Academy we use Satchel One, formerly known as Show My Homework (SMHW) for setting homework tasks. It is an online tool which shows all the homework created and published by teachers.

How Does it Work?
Once a student joins Wath Academy, they will be given a school user account / email account with a password that gives them access to Satchel One and other school resources. Parents log in slightly differently and will receive a unique Parent Code PIN number to sign into Satchel One with. The Satchel One can be accessed via their website https://www.satchelone.com/login and the Satchel One App is available on the Apple App Store​ and Google Play Store.

Help and Support
You can contact the school by email addressed to enquiries@wathacademy.com. For ICT problems, including Satchel One, you can contact our ICT Support Team at helpdesk@wathacademy.com. There is also unlimited support for students and parents from the experts at Satchel One, they have pages offering support for parents and support for students.

Frequently Asked Questions About Satchel One
Q: How Do I Log In as a Parent?
Once you have created your account using your Parent Code, you can access your account on any device using your email address and password.
Go to the Satchel One login page and click on the 'parent' tab or open the app
Enter Wath Academy as your child's school (search by postcode, S63 7NW)
Type your email address and password
Log in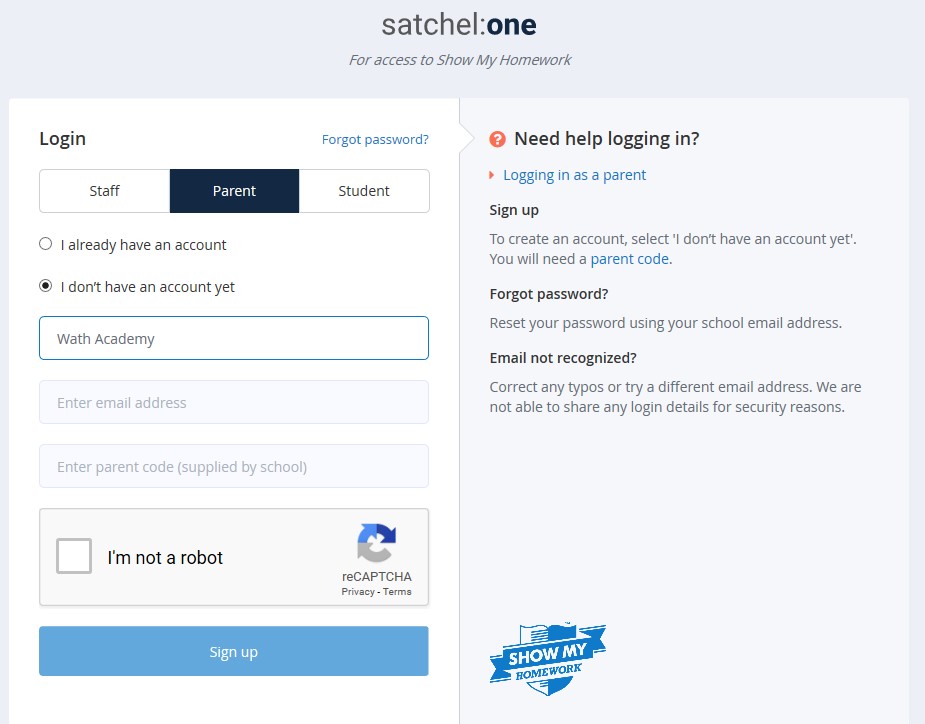 Q: How do I log In as a Student?
You can download the app or follow the link on the school website.
Visit the Satchel One login page and click on the 'student' tab or open the app
Scroll down and find the Sign in with Office 365 / Log in Via Office 365 option
enter your school username / email address in the format username@wathacdemy.com and your school password​​
Log in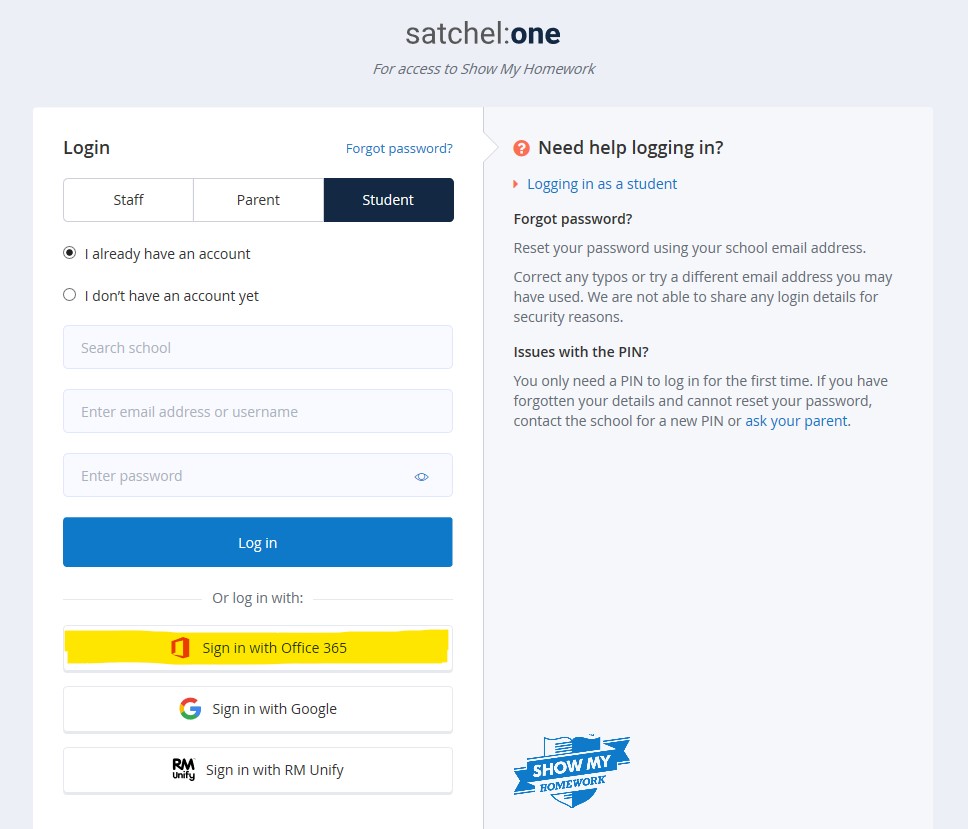 Q: I'm a Parent. What do I do if I have forgotten my password?
If you lose your password, don't worry. It can be easily recovered using your registered email address. Please follow the steps below to recover your password:
Go to the Satchel One login page and click Forgot Password?
Enter your email address in the box and click Reset password.
A password reset email will be sent to your registered address, just follow the instructions to reset your login details. If you are unable to recover your password, please contact the school ICT Support Team at helpdesk@wathacademy.com who will be able to assist you further.

Q: I'm a Student. What do I do if I have forgotten my password?
If you have forgotten your school username or password, please contact the school ICT Support Team at helpdesk@wathacademy.com.

Q: How do I manage the push notifications and emails received?
If you are using the smart phone app it will pop up with 'push' notifications. Email and push notifications allow you to choose how you will be alerted about homework. You can choose to receive reminders for upcoming homework as well as school events and announcements.
To subscribe to email and push notifications via the app:
Go to Settings and click on Notifications
In the Email Notifications section, toggle the switch to the right to subscribe to daily digest, weekly digest emails, new events and announcements. Toggling the switch to the left will unsubscribe you from these.
In the Push Notifications section, toggle the switch to the right to subscribe to all available push notifications.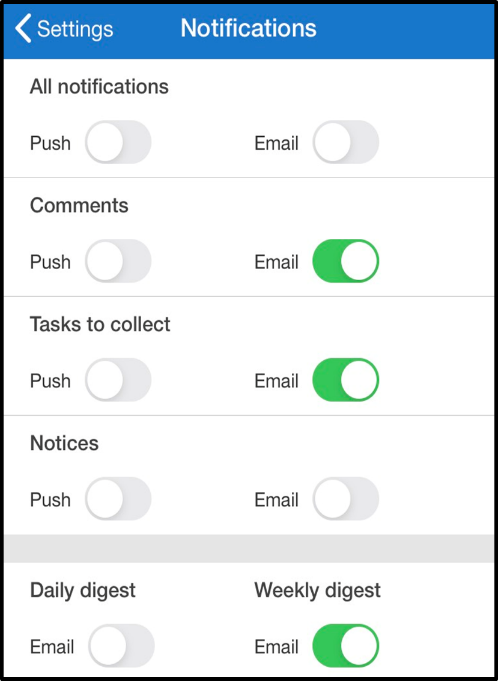 Q: My family share a laptop or desktop computer; how do we stop it logging on automatically as one person?
​Very often in web browsers we save passwords so websites automatically log us in. With some websites such as Satchel One this can be a ​problem as students, their brothers, sisters and their parents may need to log in on the same device. Remember to log out when you've finished and avoid saving the password in your browser. If you're having issues logging in you can test whether remembered passwords are the problem ​by using an 'in private' browsing tab in Edge or 'incognito mode' tab in Chrome. 'In private' or 'incognito' browsing does not store cookies or use remembered password information so this avoids automatically signing in. Remember that students must choose the 'Sign in with Office 365' option for Satchel One on their sign-in page.

Satchel One: Distance Learning
Social Media Update: 24 April 2020
We hope everyone is well.
For further clarification, please find information below which recaps on online working and lessons.
All of our teachers will be setting their learning/lessons/activities via 'Show My Homework'. Staff will be setting lessons and activities every day in line with students' normal timetables. This will allow students to follow their normal timetable at home. This will also include tutor time activities around 'Character Education' and 'Votes for Schools'.
It's great to hear that so many of you are completing the activities set. We encourage, where possible, that students do fully engage in and complete the work set so that they can continue to make progress in their subjects. However, please don't worry if you don't manage to get everything completed.
Students can message teachers directly within the 'Show My Homework' app if they have any homework-related questions. This is the best way to communicate with teachers directly.
There is no blanket requirement for students to be submitting or returning work, however, some teachers will be setting online quizzes and also requesting some documents be returned via email or the 'digital drop box' on the learning platform.
We are, where possible, trying to give 'shout outs' on social media to acknowledge excellent work and effort. We will also be posting regular updates from staff on social media to give students extra challenges to keep students engaged and motivated each week. We understand this is a stressful time for all and the priority is for everyone to stay healthy and positive. Thank you for your ongoing support through these testing times.