NATIONAL OFFER DAY 2022
Congratulations on securing a place at Wath Academy!
I am delighted that your child has been offered a place at Wath Academy from September 2022.
Admissions
You will have received your letter offering you a place with us from the Admissions Department at the Local Authority. The transition from primary to secondary school is an exciting time and students (and parents!) can have lots of questions and queries about the move. Over the coming months, there will be several events to help students have a successful transition from their primary school to Wath Academy. In May, you will receive a Year 6 Induction Pack which will provide you and your child with all the information needed for a successful transition.
Letter to Parents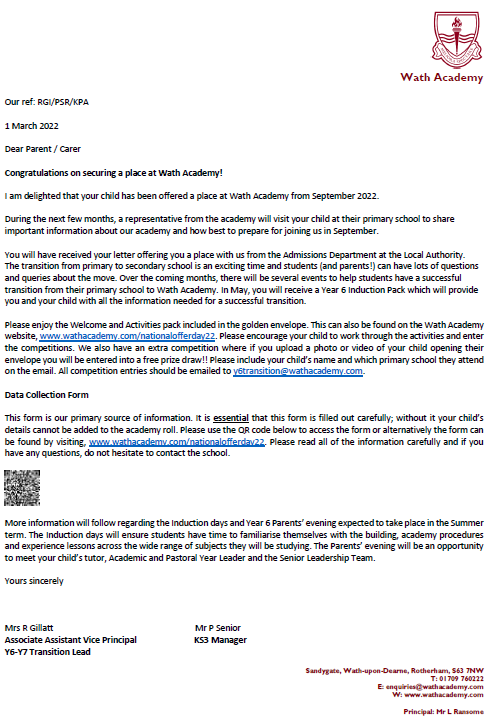 Letters To Students
Principal letter Senior Student letter
DATA COLLECTION FORM
This form is our primary source of information. It is essential that this form is filled out carefully; without it your child's details cannot be added to the academy roll. Please click the following link to complete, https://forms.office.com/r/u6DYmP1RzE . If you have any questions, do not hesitate to contact the school on 01709 760222 alternatively you can email y6transition@wathacademy.com.
WELCOME AND ACTIVITIES PACK
HOUSE SYSTEM